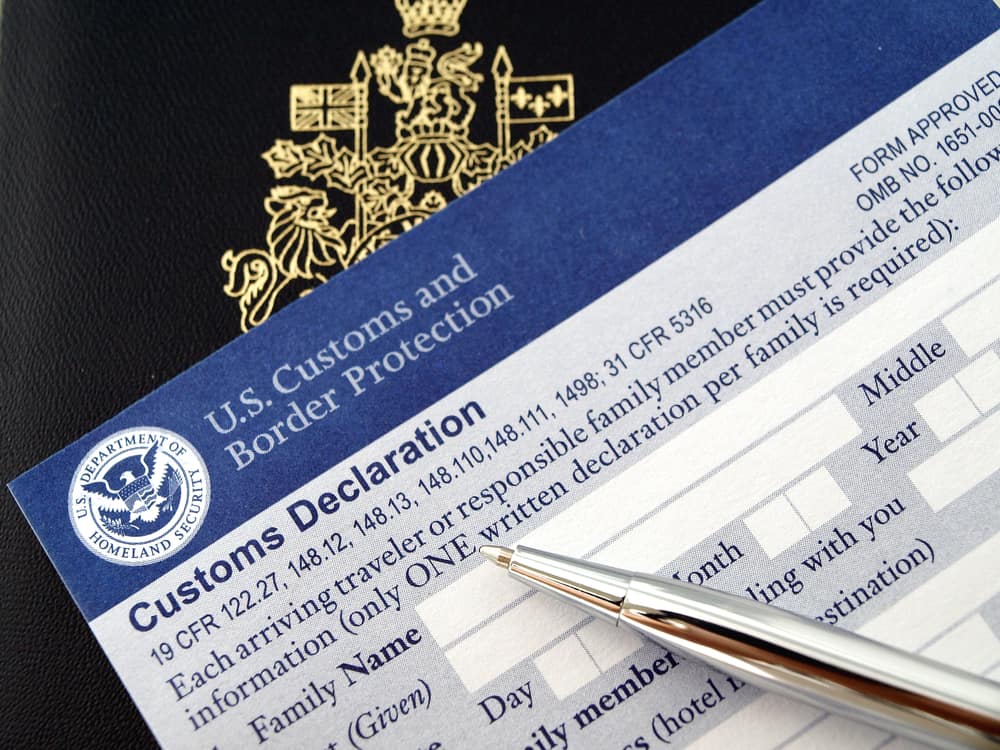 Why the United States Cares About Your Canadian Criminal Record
by Eugene Ohotnikov, Research Analyst with Pardon Applications of Canada
Decades ago, entering the United States from Canada was totally uncomplicated. People on both sides of the border were crossing it for everything, including cheaper shopping. Travelers were typically asked to show basic ID and were not required to disclose any information about having a Canadian criminal record. All of this changed just a few weeks after the terrorist attack on September 11, 2001.
Changes on U.S. Border After 9/11 for Canadians with a Criminal Record
Following 9/11, the border has become militarized. The rules for crossing the border were strictly implemented so that everyone crossing it had to present their passport. The checks at the border became much more extensive, and those with a Canadian criminal record faced a whole set of new restrictions.
It should be noted that the United States has a different classification of crimes compared to Canada. While in Canada there are summary, indictable and hybrid offences, the U.S. classifies crimes as misdemeanours and felonies. The former are less serious offences that presume maximum punishment of 1-year in prison, while the latter includes everything above that with some exceptions.
Meanwhile, the U.S. has a broad list of limitations for Canadians with a criminal record. So even multiple convictions for DUI or other misdemeanours committed close to the date of entry may be a reason for denial. As to other types of offences, anyone convicted of a crime involving moral turpitude (CIMP) will be denied entry.

Why Does the U.S. Concern Itself with a Canadian Criminal Record?
According to its official website, "…U.S. Customs and Border Protection prevents people from entering the country illegally, or bringing anything harmful or illegal into the United States." In doing so, the agents of the U.S. prevent Canadians with a criminal record who do not meet the requirements for admissibility or don't have a valid U.S. Entry Waiver from entering the United States.
In one instance, a US spokesman revealed some of the motivation behind the decision to enforce stricter measures on the Canadian border.
In 2009, Ms. Janet Napolitano, who was the U.S. Secretary of Homeland Security at that time, had said,  "But the point is this, and this is the greater point, there has been some resistance or feeling in Canada that we are thickening the border unnecessarily between our two countries, and the answer is that Canada allows people in its country that the United States does not necessarily allow in the United States."
Whatever the motivation behind the U.S. policies for Canadians with a criminal record, it can be considered a sovereign right of Canada's southern neighbour. In 2020, commenting on issues with a criminal record at the U.S. border, the Canadian Justice Minister, David Lametti, summarized, "Any sovereign country has the right to control who goes into their country. That is, in a sense, beyond our control."

Issues Faced by Canadians with a Criminal Record Crossing the U.S. Border
Canadians with a criminal record who intend to enter the U.S. face multiple challenges. First of all, most criminal records, including those for less serious offences, e.g. repeated DUI or recent misdemeanours, can make the entrants inadmissible regardless of their previous U.S. travel history. Secondly, the U.S. Border Patrol doesn't recognize Canadian Pardons. Finally, in most cases, individuals with a Canadian criminal record need a US Entry Waiver to enter the United States.
The situation has become even more complicated after Canada legalized the use of cannabis. Consequently, U.S. Border Officials started questioning Canadians, crossing the border, on cannabis use in an unprecedented manner and banned entry for those who admitted it. As the U.S. doesn't recognize a Canadian Pardon for the purposes of admissibility, even an expunged criminal record related to cannabis could lead to denial or even a permanent ban.
Although U.S. Border Patrol officials cannot access expunged (Pardoned) CPIC records, the presence of a sealed entry in CPIC itself raises a red flag and initiates questions about the reasons for conviction. As lying to a U.S. border agent could not be recommended under any circumstances and would lead to a permanent ban (or worse), the current situation with Pardons at the U.S. border related to cannabis is awaiting settlement by the government of both countries.
How Can a Traveler Legally Cross the Border with a Canadian Criminal Record?
Those with a Canadian criminal record face challenging times when crossing the U.S. border due to the increased interest of border agents to potential cannabis and uncertainty as to the classification of their offences by CBP and passing the criteria for admissibility.  For these reasons, some individuals with pardoned and unpardoned records on file in the CPIC can look into opportunities of applying for a United States Entry Waiver (form I-192 or I-194).
A U.S. Waiver is a non-permanent document issued for the period of 1-5 years with a filing fee of $585 USD and other costs related to courts & fingerprinting. It should be noted that applying for a U.S. Waiver is not about filling out some paperwork. It is a legal process which must be completed in the correct order and with accuracy to maximize success. Applicants can attempt the Waiver process on their own or contact an accredited service such as Pardon Applications of Canada to complete the application successfully. Once the application is done, it is submitted to Customs & Border Protection for their independent review & decision.
PAC's Ongoing Service Commitment
Email [email protected]
Schedule a Call https://www.pardonapplications.ca/schedule-a-call/
My Account Dashboard https://dashboard.pardonapplications.ca/
---
About the Author
Eugene Ohotnikov is a Research Analyst with Pardon Applications of Canada and legal copywriter on a broad array of subjects including family law, estate planning, immigration, taxation, real estate, conveyancing, startups, and more. Eugene holds a Master's degree in law. During his career, Eugene has developed legal content for law firms and clients from the US, Canada, China, Singapore, and Malaysia. Contact Pardon Applications of Canada via 866-383-9744.