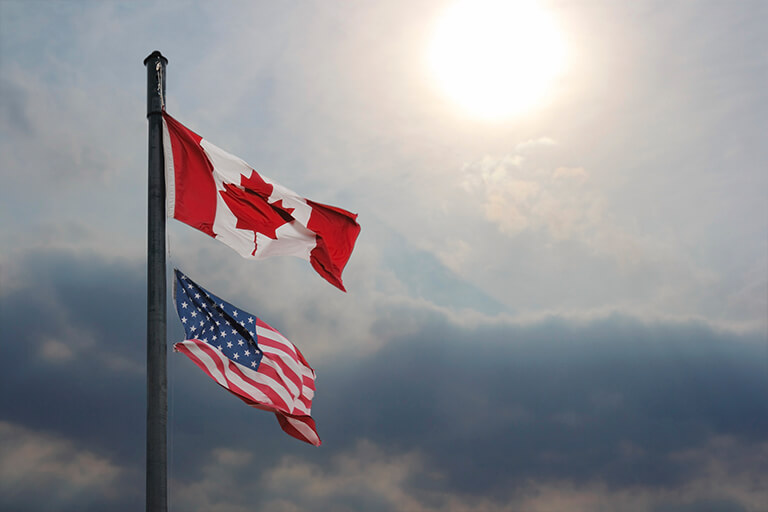 In September of 2018, Canada is due to pass the "Cannabis Act", which seeks to legalize cannabis consumption and use. The Act aims to reduce organized crime and prevent Canadian youth from pre-maturely consuming cannabis by strictly regulating access. Many believe the legalization of marijuana will lead to entry issues for Canadians when crossing the border into the U.S.
Why U.S. Law is Different
Although several individual states have legalized marijuana in the U.S., federal law still deems consumption and possession of cannabis to be illegal. Therefore, if a Canadian discloses to a U.S. Customs and Border Protection agent that they have smoked or consumed marijuana, they risk being barred from the U.S. on the grounds of being a "drug abuser".  A "drug abuser", in this context, is defined as anyone who has used marijuana within the last year. Canadians are advised to consult with immigration prior to the Act's passing to ascertain whether or not they will be barred at the border and forced to submit a waiver of excludability.
What is a U.S. Waiver?
Issued by the U.S. Customs and Border Control, a waiver states that the person is able to cross the border during the term specified on the legal document. This ensures that you cannot be denied, detained or arrested at any U.S. border crossing, whether it be by land, sea, or airport. The process of applying for a U.S. waiver is lengthy, so the time frame must be taken into account when preparing travel plans.
Impacts on Online Marijuana Purchases
When cannabis is legalized, it is expected that the primary method for cannabis purchase will be online. According to Global News, 15% of Canadians stated they were interested in online purchasing due to factors, such as convenience and customer discretion. However, there are implications regarding online purchasing records storage. In Canada, customers ordering from online websites are protected under the Charter, but the same laws do not apply in the U.S. If the purchase information is stored on a U.S. server, according to the Patriot Act, the Federal Bureau of Investigation has the right to access the information. The laws pertaining to online data storage will vary by province.
Not only is the data from the online marijuana providers themselves at stake, but also the data from the credit cards used to make the online purchase. Canadian banks have warned that they cannot guarantee that credit card information will not be stored in the U.S. This is explained in detail within the privacy agreements of major banks.
While some measures are being taken within Canada in response to the nationwide legalization, Canadians are still uncertain as to what to expect when legalization is official and they wish to enter the U.S.
Pardon Applications of Canada is a nationwide A+ Accredited processing firm for Canadian Pardon (Record Suspension) & U.S. Entry Waiver applications.  We can help you find out if you qualify for a U.S. waiver. For more information on Pardon Applications of Canada, call 866-383-9744 or [email protected].
PAC's Ongoing Service Commitment
Email [email protected]
Schedule a Call https://www.pardonapplications.ca/schedule-a-call/
My Account Dashboard https://dashboard.pardonapplications.ca/