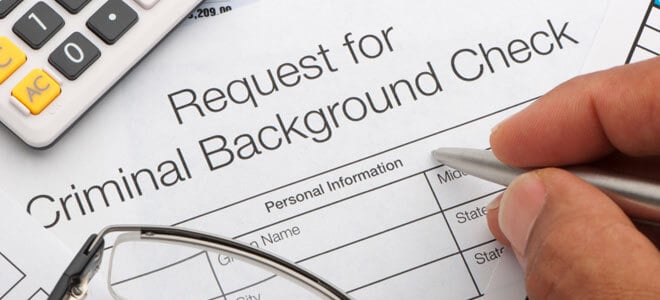 The Society for Human Resource Management found that nine out of 10 employers conduct criminal background checks on applicants. This makes being hired with a criminal record a bit challenging, but it isn't impossible. Employers do background checks to ensure that the nature of your criminal record does not relate to the type of job for which you are applying. Often, it is a company's policy to conduct background checks on potential employees.
The Hiring Process
When you're applying for a job and you have a criminal record, it's important to not include it on your resumé. The purpose of a resumé is to secure a job interview, which will be your opportunity to explain your criminal record. If you took advantage of work opportunities, training, or academic pursuits while in prison, put it on your resumé as you would any other work or educational experience.
At the interview, you can include what you learned from your experience if you served time. It's important to be positive and highlight what you plan on contributing if you fill the position.
When a hiring employer asks if you have been convicted of a crime for which you have not received a record suspension or pardon, they may also ask you to go through a police record check. In this instance, you are under no obligation to agree to this, but in doing so, you will increase your chance of being hired.
If you do give your consent, you can speak to the police and have your record check results sent to you instead of your hiring employer. This will provide you with more time to prepare your explanation for your criminal record. You can also have the police send the results directly to your hiring employer, but make sure to ask your potential employer for a copy of the record and the opportunity to explain what it contains so you may have a fair chance to be judged equally to other candidates.
Consider speaking with an employment counsellor to better prepare for questions about your criminal record during a job interview.
What to Do About Your Criminal Record
It's important to inform your potential employer that you have a criminal record because hiding it will not make you look like a desirable candidate. It will also show that you do not trust your potential employer with this knowledge because they may be willing to give you a chance to work for them.
You also have the choice to apply for a pardon to make job applying easier on yourself. If you qualify, a pardon will separate your criminal record from public view in the national criminal record database. Anyone who wishes to see your criminal record must get written permission from you or the Public Safety Minister of Canada.
Pardon Applications of Canada is a nationwide A+ Accredited processing firm that can help you with applying for a pardon or a U.S. Entry Waiver. Call us at 866-362-1475 toll-free across Canada, or visit our contact page for more details.
PAC's Ongoing Service Commitment
Email [email protected]
Schedule a Call https://www.pardonapplications.ca/schedule-a-call/
My Account Dashboard https://dashboard.pardonapplications.ca/