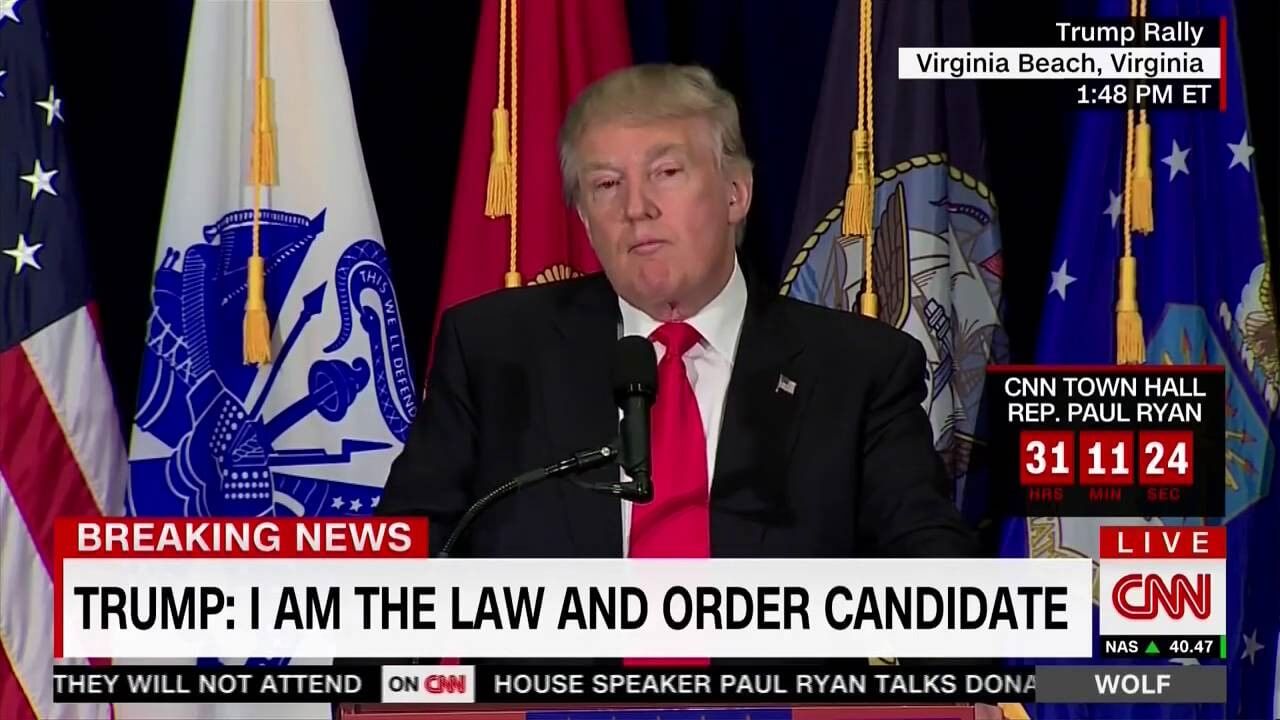 Kaira Kiritharan, A+ Accredited Associate Officer with Pardon Applications of Canada
_______________________________________________________________________
The world was captivated by a riveting election that took place in one of the most powerful countries of the globe — the United States of America. Citizens and leaders of nations around the world were split into two sides with a head on head war between the Republicans and the Democrats. To many, it came as a shock when the results revealed that Republican Donald Trump won the U.S election with 304 electoral college votes compared to 227 electoral college votes for Democrat Hillary Clinton.  Thus, Trump prevailed as the 45th president of the United States.
But what could that mean for crime in the United States and Canada?  During the presidential race, Trump presented himself as the "law and order" candidate, assuring that he would take a tough-on-crime approach to keep America safe.
"We must maintain law and order at the highest level, or we will cease to have a country, 100 percent," said Trump during his campaign race.  Since that time, Trump has put forth several tough-on-crime policies, some of which include more police attention on general law breaking, increased intelligence related to drug crimes, and increasing penalties for offenders who commit crimes against law enforcement officials. These policies work together to create a strict crime-fighting agenda in the sense that crimes regarded as minor and crimes considered to be violent are to be hounded upon.
The War on Drugs movement that has endured in the U.S for decades still gains ground as one of Trump's main objectives.  "We're going to stop the drugs from pouring in…stop those drugs from poisoning our youth, from poisoning our people. We're going to be ruthless in that fight". Thus, it is evident that the new president intends to uphold the war on drugs movement through the appeal to public safety, aimed at protecting the youth and promising to eradicate corrupted cartels that reign in the lucrative trade of drugs.
Apart from controversial domestic policies that Trump has proposed, his foreign policies have garnered great debate such as his proposal for the U.S Mexico Wall. Yet, one of the most controversial is his Immigration/Travel Ban. Trump's immigration ban is an "executive order temporarily blocking entry by citizens of seven Muslim-majority countries". This ban has currently been suspended by a court ruling, yet the persistent President says a new order will be drafted. Trump justifies this immigration ban on the notion that the United States must be protected from terrorism and must be proactive in its plan to prevent terrorists from entering the U.S.  This policy is as controversial as Trump himself, whether intentionally or unintentionally, and has created the implied generalization that all individuals from Muslim countries have terrorist roots.  It is also plausible to suggest that Trump would most likely "ban" or attempt to ban individuals with a criminal record from entering the United States, regardless of the individuals country of origin.  Known to be the 'law and order' candidate, Trump can very much issue a policy barring past-offenders from entering America, as he has put forth a ban on individuals simply based on religion from an assumption that they could be extremists.
Currently, Canadians with a criminal record can enter the U.S with a valid passport and U.S Entry Waiver.  It is questionable, however, as to how long Trump would allow the procedure of issuing waivers to individuals with a criminal record from Canada. In this regard, it may be beneficial for individuals in Canada to obtain a Canadian Pardon (Record Suspension) to seal their criminal record from public visibility. Although Canada and the U.S share a criminal database and Homeland Security has access to the criminal records of Canadians, indication of a criminal record being sealed can give the impression that an individual is proactively under the process of removing their criminal record and committing to become a law-abiding citizen who will not re-offend. Obtaining a pardon for those convicted of drug-related crimes can be much more beneficial considering the mass movement of the war on drugs that has swept across America for many years under the administration of various presidents.
The future of the United States of America is going to be transformed and the upcoming polices that President Trump will propose are unknown. Ultimately, obtaining a Canadian Pardon not only seals one's criminal record in Canada, but could help with an individual's travel freedom to the United States going forward. Although not officially recognized by the United States, a Pardon cannot hurt a traveler's chances of legal entry and indeed, could make a difference depending on Trump's future policy enactments.
PAC's Ongoing Service Commitment
Email [email protected]
Schedule a Call https://www.pardonapplications.ca/schedule-a-call/
My Account Dashboard https://dashboard.pardonapplications.ca/
_______________________________________________________________________
Kaira Kiritharan is an A+ Accredited Associate Officer with Pardon Applications of Canada. Established in 2011, the private firm with nationwide offices in Vancouver, Edmonton, Montreal, Ottawa & Toronto has responded to and processed more than 105,000 record suspension & U.S. Waiver inquiries and applications.  Pardon Applications of Canada uses RCMP Accredited fingerprints and is A+ Accredited via the Better Business Bureau.